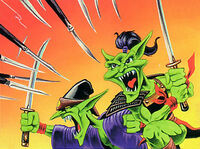 Goblin Berserkers although small in number, they made up by sheer exuberance. In combat the goblins selected a target to attack first, and all the pack fought that individual until he was down, out, or dead. Once done, they moved on to a second opponent as a swarm. They continued to fight until they won or died. [1] Berserkers were often the first ones to be "volunteered" to be anointed with Magic Mud. [2]
See also
Edit
External Links
Edit
References
Ad blocker interference detected!
Wikia is a free-to-use site that makes money from advertising. We have a modified experience for viewers using ad blockers

Wikia is not accessible if you've made further modifications. Remove the custom ad blocker rule(s) and the page will load as expected.