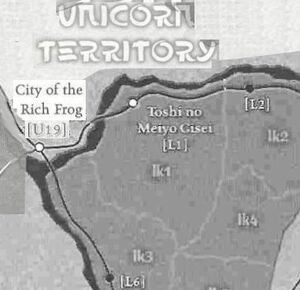 The Gisei province (Ik1) was the northwestern Ikoma province. It was bordered in the east by the Eiyu (Ik2) and the Ikota provinces (Ik4), in the southwest by the Shiranai province (Ik3), being enveloped in the north by the Unicorn lands. Notable location within the province was Toshi no Meiyo Gisei. [1]
The province was named for Toshi no Meiyo Gisei, a city which took its name from the lesson of the strength of honor made by Ikoma Arimi. She was a samurai-ko who vowed to commit seppuku to prove her loyalty, when his lord Ikoma Masahiro discovered Arimi had a lover. The daimyo accepted, but he handed her a wooden sword to perform the act. She took the sword and performed the act despite the grave insult, and a shrine was erected in her memory. [2]
Known Governors
Edit
References
Ad blocker interference detected!
Wikia is a free-to-use site that makes money from advertising. We have a modified experience for viewers using ad blockers

Wikia is not accessible if you've made further modifications. Remove the custom ad blocker rule(s) and the page will load as expected.