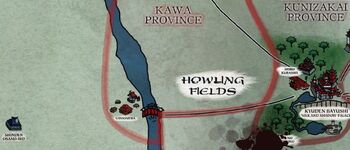 The small village of Ginasutra (S9) in the Kawa province [1] guarded the road to Shinden Osano-Wo, the Path of Thunder. [2] It would however be more appropriate to say it lightened travelers burdens as he journeyed towards the shrine, because of the amount of supplies that could be bought here. Incense, cookies and other gifts for the fortunes could be bought, all reasonably priced. [3]
Shosuro Village
Edit
The presence of Shosuro influence was minimal, with no military garrison, because the presence of fierce sohei of Osano-Wo was enough to maintain the order. Ginasutra was the perfect stereotypical peasant backwater village, who were well educated and highly spiritual, albeit unaware of current events. The huge Shrine of Shosuro, built to honor the Scorpion Thunder Shosuro, was located just outside the village borders. [4]
In 1171 the village was burned and no villagers let to escape. The plague had struck them beyond redemption. [5]
References
Ad blocker interference detected!
Wikia is a free-to-use site that makes money from advertising. We have a modified experience for viewers using ad blockers

Wikia is not accessible if you've made further modifications. Remove the custom ad blocker rule(s) and the page will load as expected.