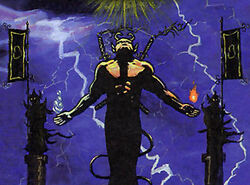 The Genso no Oni, Dark Warrior, [1] was one of the few intelligent oni, able to master some of the most refined combat techniques. Genso no Oni was humanoid in appearance, but it's face was that of a grinning demon. It wore a hakama in mockery of the samurai. In combat Genso no Oni would usually spar with samurai, mocking them, pointing out their faults with gleeful joy, and winning effortlessly. Only the most persistent, strong-willed samurai could hope to kill it, since this Oni was the equivalent of a master at arms. [2]
See Also
Edit
External Links
Edit
References
Ad blocker interference detected!
Wikia is a free-to-use site that makes money from advertising. We have a modified experience for viewers using ad blockers

Wikia is not accessible if you've made further modifications. Remove the custom ad blocker rule(s) and the page will load as expected.