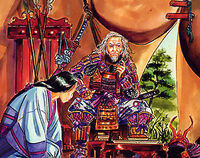 The rank of rikugunshokan designated the General of an army.
The rank was given at the discretion of the Clan Champion. They often were a daimyo's chief advisor and often their karo as well. If the rikugunshokan was not the daimyo's karo competition could arise between the two for the daimyo's favor. The Rikugunshokan could own up to two to three castles, with a shireikan in charge of each castle's garrison. [1]
External Links
Edit
References
↑ Way of the Dragon, p. 26
Ad blocker interference detected!
Wikia is a free-to-use site that makes money from advertising. We have a modified experience for viewers using ad blockers

Wikia is not accessible if you've made further modifications. Remove the custom ad blocker rule(s) and the page will load as expected.