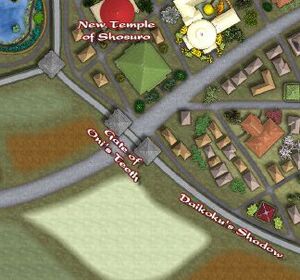 The Gate of Oni's Teeth located in the Daikoku's Shadow neighborhood of Ryoko Owari, was crossed by Mountain Goblin's Rest Road, from where came the Crab commerce and the goods from the Beiden Pass. [1] The first gate was replaced with a structure honoring the lovers Riko and Okami after they freed Ryoko Owari Toshi from Hukuro no Oni, the dreadful Owl With Teeth. [2]
References
Ad blocker interference detected!
Wikia is a free-to-use site that makes money from advertising. We have a modified experience for viewers using ad blockers

Wikia is not accessible if you've made further modifications. Remove the custom ad blocker rule(s) and the page will load as expected.