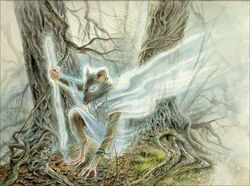 G'ni'ch was a Nezumi Shaman who was elevated as a Transcendent. [1]
Fighting Fu Leng
Edit
G'ni'ch, before he transcended, slew a great number of Tainted beasts, including a spawn of Akuma no Oni, an entire pack of Sanru no Oni, and the depraved maho-tsukai Kuni Yoshimitsu. [2]
Transcendent
Edit
Among the Transcendent G'ni'ch was known as the Fierce. He hailed from no existing tribe, his people having been destroyed by the Shadowlands, so he remains an implacable enemy of Fu Leng. G'ni'ch demanded to his aides that they must destroy all trace of the Taint. If G'ni'ch departed his aide, it was usually from exasperation because the aide was not destroying enough Tainted creatures. [2]
External Links
Edit
References
Ad blocker interference detected!
Wikia is a free-to-use site that makes money from advertising. We have a modified experience for viewers using ad blockers

Wikia is not accessible if you've made further modifications. Remove the custom ad blocker rule(s) and the page will load as expected.