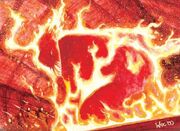 Fushiki no Oni was a Fire Oni of the Shadowlands.
Appearance
Edit
Fushiki appeared as a humanoid form of pure flame. Two bright yellow pin-pricks blow where eyes would be. It was seen first time during War of Spirits and it was the most feared new oni. [1] The oni had a dogged determination to assault and destroy human constructs, most notably the Crab siege engines and Kaiu Wall. [2]
External Links
Edit
References
Ad blocker interference detected!
Wikia is a free-to-use site that makes money from advertising. We have a modified experience for viewers using ad blockers

Wikia is not accessible if you've made further modifications. Remove the custom ad blocker rule(s) and the page will load as expected.