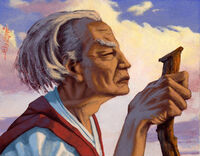 Fusaki was a gentle and earnest ronin shugenja who studied with the Phoenix Clan for many years. [1]
Demeanor
Edit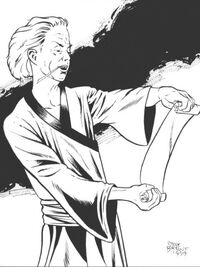 Fusaki was a quiet, humble and unobtrusive shugenja. [2]
Kyuden Isawa
Edit
Fusaki for ten years, served as an apprentice to the Isawa, trading his service for knowledge. For a time he was student of the Master of Air Isawa Eju. [2]
Shinjo Provinces
Edit
Fusaki later moved to the Shinjo lands, where he studied the Meishodo magic under Iuchi Daiyu, Iuchi Takaai, and others. Fusaki also spent his time in learning horsemanship, and he was even gifted with a pony. [2]
Kuni lands
Edit
Kuni Noda, a revered Kuni Witch Hunter and sensei of the Shadowlands Lore, came to Fusaki, and recruited him as his student. In his time with the Kuni Fusaki shifted his demeanor, forgetting his pride and self-importance. [2]
Retirement
Edit
After he studied in three of the greatest libraries of the Empire, Fusaki retired to the Northern Holy Home Village, near Otosan Uchi, to write his journal. [2]
See also
Edit
External Links
Edit
References
Ad blocker interference detected!
Wikia is a free-to-use site that makes money from advertising. We have a modified experience for viewers using ad blockers

Wikia is not accessible if you've made further modifications. Remove the custom ad blocker rule(s) and the page will load as expected.