Chuda Fukuzo was a Bog Hag shugenja and Supai of the Spider Clan.
Disguised as a ronin soldier known as Fukuzo, he had been at the side of Utaku Ji-Yun for more than ten years. [1] After she became Emerald Champion, Fukuzo was appointed as a magistrate and advisor to her. [2]
Colonies
Edit
In 1199 Fukuzo moved alongside the Imperial Legion commanded by Shinjo Kinto. They stayed at Journey's End Keep for a few days to rest and gather some information before continuing on to the Second City. Kinto wished to develop a more informed view of the Colonies, and sent Fukuzo back to the Empire with his report. [3]
A Mantis' Outburst
Edit
Kinto was met by Yoritomo Sakuma, one of the Mantis who recently had been banished from the Second City by the Imperial Governor of the Colonies's edict. The Mantis accused that Otomo Suikihime used legally suspect rulings to counter the will of the Empress Iweko I. During the discussion Sakuma punched Fukuzo in the throat, and he was beheaded on the spot by Kinto. [3]
Second City
Edit
They arrived to Second City, but Kinto was not summoned by the governor. She sent Shinjo Sanenari instead, a samurai with a remarkably lovely skin, who Fukuzo introduced to Kinto. [4] The conflict escalated and the legion laid siege to the Second City. He should very much like to meet the Imperial Governor of the Colonies Otomo Suikihime if he could. [5]
Siege of the Second City
Edit
During the last stages of the Siege of the Second City Fukuzo wearing another skin managed to join the Ivory Court. When he saw the governor, he immediately realized she was not Suikihime, but most probably a Shosuro Actor and magic alike. [6]
External Links
Edit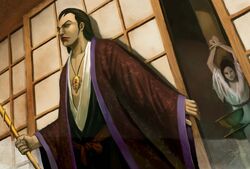 References
Ad blocker interference detected!
Wikia is a free-to-use site that makes money from advertising. We have a modified experience for viewers using ad blockers

Wikia is not accessible if you've made further modifications. Remove the custom ad blocker rule(s) and the page will load as expected.