Ad blocker interference detected!
Wikia is a free-to-use site that makes money from advertising. We have a modified experience for viewers using ad blockers

Wikia is not accessible if you've made further modifications. Remove the custom ad blocker rule(s) and the page will load as expected.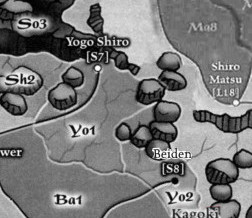 The Fukitsu province (Yo1) was the northernmost Yogo province, extending from the northernmost borders of the Kunizakai (Ba1) and Beiden provinces (Yo2), to the southernmost borders of the Yuma (So3) and An'ei provinces (So2), and from the easternmost border of the Kakushikoto province (Sh2), being enveloped by the Seikitsu Mountains which separated from the westernmost border of the Lion provinces. Notable locations within the province were the Yogo capital Shiro Yogo (S7), Naganori Mura, and the ruins of the Daidoji holding of Shiro Banken. [1] After the events that ended the Destroyer War the province also hold the Second Festering Pit. [2]
References
↑ Secrets of the Scorpion, p. 96