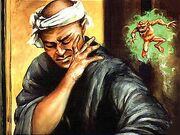 Fuhao was a mujina who served the kenku sensei Kozue.
Traveling between Realms
Edit
Fuhao could travel between Realms, Ningen-do, Chikushudo, Toshigoku,... with a companion with him. [1]
Doji Yasurugi
Edit
In the 1st century Fuhao was the contact between Kozue and Doji Yasurugi during his training near Kyuden Doji. [1]
Doji Yoringu
Edit
Fuhao was with Kozue when they traveled to Crane Provinces to reach the magistrate Doji Yoringu. The Kenku passed Naishi to Yoringu. [2]
Doji Yasuyo
Edit
He aided Doji Yasuyo in finding Kozue in 1158. Fuhao delighted in irritating the Crane samurai-ko on their journey. [3] [4]
References
↑ Secrets of the Crane, p. 44
↑ Creatures of Rokugan, p. 4 - "Strangers"
Ad blocker interference detected!
Wikia is a free-to-use site that makes money from advertising. We have a modified experience for viewers using ad blockers

Wikia is not accessible if you've made further modifications. Remove the custom ad blocker rule(s) and the page will load as expected.