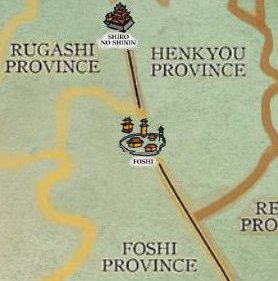 The dull city of Foshi (L7) was located in the Foshi province on the border between the Kitsu and Akodo provinces. [1] It was the largest settlement in the Kitsu lands. [2] The area had the distinction of being the most productive food resource in Lion lands, its crops able to feed entire armies. There was a great number of troops stationed here to guard the Lion provisions, and a tremendous number of silos outside the city held the grain until the military had need for it. [3]
Refreshment of the Troops
Edit
The city had the purpose of keeping the armies of the Lion well fed and content. To that end, crime and mischief were not tolerated. Outsiders were not tolerated, with the exception of traveling monks and the occasional well-behaved merchant. [4]
References
Ad blocker interference detected!
Wikia is a free-to-use site that makes money from advertising. We have a modified experience for viewers using ad blockers

Wikia is not accessible if you've made further modifications. Remove the custom ad blocker rule(s) and the page will load as expected.