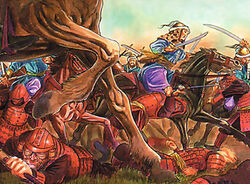 Forward Guards patroled the borders and provided up to date reconnaissance on the troop movements of other clans. They were rarely larger than 100 troops but often contained some elite or specialty troops. The Phoenix Forward Guard was one of the three groups in which was broken the Shiba Army. [1]
External Links
Edit
References
↑ Clan War: Phoenix Army Expansion, pp. 61-62
Ad blocker interference detected!
Wikia is a free-to-use site that makes money from advertising. We have a modified experience for viewers using ad blockers

Wikia is not accessible if you've made further modifications. Remove the custom ad blocker rule(s) and the page will load as expected.