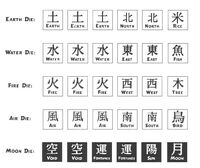 The Fortunes and Winds was the primary dice game in Rokugan, and its highest-paying combination was called as the game's name. [1]
It was played with a set of five six-sided dice. One dice was a different color than the other four. [1] The four matching dice weare known as the Air, Earlh, Fire, and Water dice. The fifth die  was called the Moon die. Each die had a number of different faces so that they could create a variety of comblnations when the lot were cast. [2]
Side Bets
Edit
Daikoku's Belly - It was a popular side bet, and was a wager that the current shooter would roll a winning combination. [2]
Lord Sun's Tea - This side bet hinged on whether or not a given shooter would make three rolls during his turn. It was an even odds bet, with an opposite number bet called Hungry Moon. Hungry Moon was even odds, and was a wager that the shooter would only roll once or twice. [2]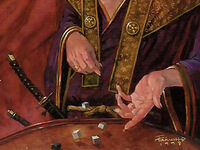 The game was very popular between the Mantis Clan. [3]
External Links
Edit
References
Ad blocker interference detected!
Wikia is a free-to-use site that makes money from advertising. We have a modified experience for viewers using ad blockers

Wikia is not accessible if you've made further modifications. Remove the custom ad blocker rule(s) and the page will load as expected.