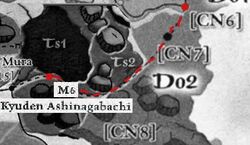 Forgotten Way was a small, unused road which winded through the Seikitsu Mountains to emerge in the southern reaches of the Crane lands. It connected Kyuden Ashinagabachi (M6) to Kyuden Doji (CN6). This was the path Tsuruchi took to reach the Emerald Champion before his men at Kyuden Ashinagabachi fell to the forces of the Lion and Scorpion. [1]
References
↑ Secrets of the Mantis, p. 55
Ad blocker interference detected!
Wikia is a free-to-use site that makes money from advertising. We have a modified experience for viewers using ad blockers

Wikia is not accessible if you've made further modifications. Remove the custom ad blocker rule(s) and the page will load as expected.