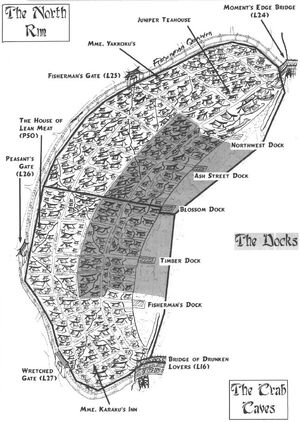 The Fisherman Quarter was a heimin-dominated quarter of Ryoko Owari Toshi, forming the main population center on the western side of the Bay of Drowned Honor. [1]
Appearance
Edit
The noisy quarter had a strong odor of fish and stale water, it had narrow and cramped roads, and the buildings were of one or two stories. [2]
The kajinin of this quarter were the Fire Eaters and the Moment's Edge Firemen. [2]
Activities
Edit
Fishing, freight, and storage were the most important industries, but also brewers and potters were located there. The fish, rice, or opium, collected all around the city came and was unloaded at the docks. A black market of everything flourished around them. [2]
Neighborhoods
Edit
References
Ad blocker interference detected!
Wikia is a free-to-use site that makes money from advertising. We have a modified experience for viewers using ad blockers

Wikia is not accessible if you've made further modifications. Remove the custom ad blocker rule(s) and the page will load as expected.