The Fireworks were made with several tubes of chemicals which when lighted released bright colorful controlled explosions. The Agasha made small "doses" of explosive that they used for them. [citation needed] This technology was expanded by the Merenae gaijin Espada Cornejo to create Polvora adding saltpeter. [1]
Festivals
Edit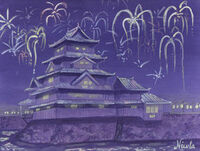 The fireworks were used in Rokugani festivals as the Festival of New Year's Day. [2]
External Links
Edit
References
Ad blocker interference detected!
Wikia is a free-to-use site that makes money from advertising. We have a modified experience for viewers using ad blockers

Wikia is not accessible if you've made further modifications. Remove the custom ad blocker rule(s) and the page will load as expected.