The Fields of the Dead (SH4) was an old graveyard, filled to capacity, concealed among the craggy cliffs on an uninhabitable region of coastline was located north of Otosan Uchi. It was created before the Imperial edict mandating cremation as the means of disposing of human remains. There were none to pay homage to the shrines there, as the entire graveyard was filled with the bodies of those washed upon shore, victims of pirates and shipwrecks. [1]
Spider Clan
Edit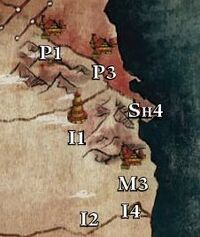 Daigotsu made a holding in this place for the called Spider Clan. It became a center for the Chuda family to perfect their necromantic arts. [1]
External Links
Edit
References
Ad blocker interference detected!
Wikia is a free-to-use site that makes money from advertising. We have a modified experience for viewers using ad blockers

Wikia is not accessible if you've made further modifications. Remove the custom ad blocker rule(s) and the page will load as expected.