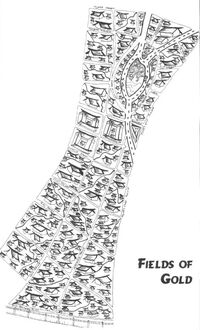 Fields of Gold was a neighborhood of the Merchant Quarter at Ryoko Owari Toshi. It was the wealthiest heimin city's neighborhood. It stretched from the Garden of Daikoku to the wall around the Noble Quarter, bordered by Monk's Edge Avenue to the southeast and by Gold Avenue on its opposite side. [1]
The kajinin of this quarter were the Firemen of Daikoku's Garden. [1]
Notable Locations
Edit
Star of Silver: a silver smithy.
Speed of the Northlands: horse shop and stables.
References
Ad blocker interference detected!
Wikia is a free-to-use site that makes money from advertising. We have a modified experience for viewers using ad blockers

Wikia is not accessible if you've made further modifications. Remove the custom ad blocker rule(s) and the page will load as expected.