The Oshogatsu, or Festival of New Year's Day, on the first day of the Month of the Hare [1] celebrated the beginning of the year and the fall of the Kami and founding of the Great Clans. People in Rokugan did not celebrate their individual birthdays, and instead celebrated turning one year older at the Festival. It celebrated their position in society, their connection to their ancestors and position as samurai. [2]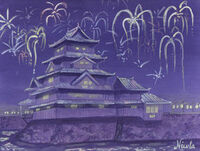 It was the most elaborate of Rokugan's annual festivals, and it was generally regarded as the most important as well. [3] During New Year's Eve while listening to temple bells ring it was popular to eat toshikoshi, a type of soba noddles. [4] Large talismans such as small bows, arrows, and wooden plaques were purchased during the celebration and were known to bring great fortune. Archery competitions were held by peasants and samurai to predict the autumn harvest. [5] Temples and shrines were decorated, exchanges of gifts and formalized well-wishes were performed among samurai families, and flowers were strewn across the streets and placed decoratively on every house. The festival concluded in the evening with parades, music, and fireworks. [3] Shiro Shiba hold a legendary festival. [6]
The Emperor performed the shihohai ritual in which he offered prayers for the well-being of the nation. [1] During the Four Winds era the festival was held without this ritual, as no Emperor sat in the Throne. [7]
The naga celebrated their New Year during the Month of the Horse, the hottest time of the year. To them, the summer heat symbolized the searing of the land, when the first nation of the naga destroyed the Foul that had previously inhabited it. [8] The Naga celebrated their victory against the Darkness with great bonfires, and the streets of all the Naga cities were lit with tremendous amounts of light and torches, remembering the day when the land was burned and purified by the Atman's Bright Eye. [9]
External Links
Edit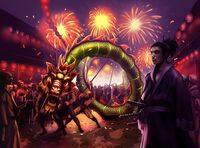 References
↑ Way of the Crane, p. 15
↑ GM's Survival Guide, p. 25
↑ Game Master's Guide; 2nd Ed, p. 95
↑ Masters of Magic, p. 88
↑ Masters of Magic, p. 155
↑ Creatures of Rokugan: Third Edition, p. 22
↑ Way of the Naga, p. 24
Ad blocker interference detected!
Wikia is a free-to-use site that makes money from advertising. We have a modified experience for viewers using ad blockers

Wikia is not accessible if you've made further modifications. Remove the custom ad blocker rule(s) and the page will load as expected.