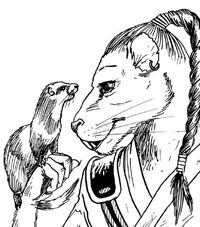 Ferrets, called S'sith by the nezumi, were a small species of weasel, adept at hunting small animals. Nezumi of the Squeaky Eyeball Tribe found them in the Yobanjin lands and domesticated them, bringing several back to Rokugan. It became a popular pet among nearly every nezumi tribe. They were used in hunting and to protect the warren from snakes. [1]
See also
Edit
References
↑ Way of the Ratling, p. 48
Ad blocker interference detected!
Wikia is a free-to-use site that makes money from advertising. We have a modified experience for viewers using ad blockers

Wikia is not accessible if you've made further modifications. Remove the custom ad blocker rule(s) and the page will load as expected.