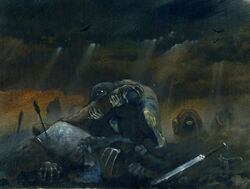 Feeding on Flesh was a Mastery 2 maho fire spell [1] and also a Shadowlands Power that allowed the tainted individual to feed on the flesh of another creature or person to replenish their own strength. The power required the tainted person to kill the victim with their bare hands or other natural weapons such as the Blackened Claws power. Any samurai killed in this manner never returned as ancestors, and no one knew for sure where the souls of those killed in this way end up. A terrible red light rose from the victim into the tindividual's mouth, and the howl of tormented souls could be heard for several yards. [2] [3]
Characters Known to have this Power
Edit
External Links
Edit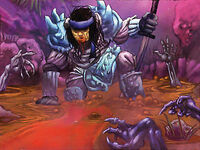 References
↑ Prayers and Treasures, p. 107
↑ Way of the Shadowlands, p. 66
↑ Legend of the Five Rings; Third Edition, p. 267
Ad blocker interference detected!
Wikia is a free-to-use site that makes money from advertising. We have a modified experience for viewers using ad blockers

Wikia is not accessible if you've made further modifications. Remove the custom ad blocker rule(s) and the page will load as expected.