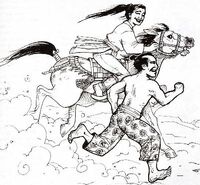 The Far Runner Dojo was a unique institution, a training hall run by the Crab Clan, but located in Shinjo lands. It was a product of the unique friendship that sprang up between the Hiruma and the Unicorn Clan. [1] It taught the Hiruma Scout and the Falcon's Wings schools. [2]
Friendship
Edit
After the Unicorn returned to Rokugan, they were mostly shunned by the Great Clans, but they found sympathy from the Crab, who knew what it was like to be looked upon as uncouth and brutish. The relationship became closer after Moto Tsume and his followers disappeared into the Shadowlands, and the Unicorn realized that they needed to learn more from the Shadowlands. [1]
Foundation
Edit
Shiro Hiruma, the ancestral Hiruma Castle, was controlled by the Shadowlands, and the Hiruma did not had a place to train their bushi. The Unicorn agreed to build a training hall on the White Shore Plains, just across the Firefly River. In return, the Hiruma would teach the Moto survival techniques, combat techniques and other forms of lore regarding the Shadowlands. [1] The Hiruma dojo predated the construction of Shiro Moto, and only stood near the Unicorn capital because this area was once the heart of the nomadic Moto Clan's regular routes. [3]
After the recovery of Shiro Hiruma in 1132, Far Runner Dojo was almost vacated, and re-established there the Hiruma Scout School dojo, but they maintained a cadre of sensei at Far Runner Dojo. The Hiruma had sent students back to the dojo, keen to make use of the so-called Running Fields that surround the training hall. [1]
It was built a shrine to honor Hida Kuroda, the late Crab Clan Champion and a former student of the dojo, since his death at the hands of Kyofu, the Onisu of Fear. [3]
Sources Conflict
The sources relating to this article are in conflict with each other.
Masters of War claims the dojo as a Hiruma Scout schools, while Secrets of the Crab claims it was a Hiruma Bushi school. As the Ancestral Hiruma techniques were said to be lost after the Hiruma Bushi school at Shiro Hiruma was destroyed, this dojo should teach only scout techniques.Oni no Pikachu (talk) 10:20, February 23, 2013 (UTC)
References
Ad blocker interference detected!
Wikia is a free-to-use site that makes money from advertising. We have a modified experience for viewers using ad blockers

Wikia is not accessible if you've made further modifications. Remove the custom ad blocker rule(s) and the page will load as expected.