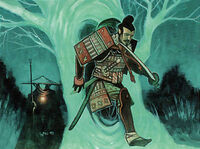 Falling Star Strike was a Mastery 7 martial fire kiho [1] which was the perfect example of the dangerous applications of atemi. The simple, yet crippling, kiho utilized a strike against an opponent using only the barest tip of the monk's finger. If successful the target was struck blind for several seconds, as the energy travelling to their eyes had been disrupted. [2] [3]
External Links
Edit
References
↑ Legend of the Five Rings; Fourth Edition, p. 264
↑ Legend of the Five Rings; Third Edition, p. 257
↑ Way of Shinsei, p. 60
Ad blocker interference detected!
Wikia is a free-to-use site that makes money from advertising. We have a modified experience for viewers using ad blockers

Wikia is not accessible if you've made further modifications. Remove the custom ad blocker rule(s) and the page will load as expected.