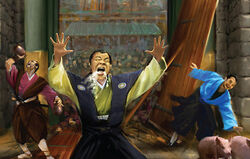 The Fallen was the term used to describe those who had fallen to the madness [1] exerted by the mad dragon P'an Ku [2] during the Heretic War. [3]
Abilities
Edit
Those who were of lower honor were more prone to be blessed by the mad dragon, but anyone could have their minds distorted by its power. The Fallen performed crimes with incredible violence, as they were granted supernatural stamina. [4] They first begin to make more selfish and questionable decisions, became increasingly prone to violence and spectacularly bad choices, and ultimately they became raving lunatics. [5]
Treatment
Edit
In the early stages, the madness could be halted by assisting the afflicted in coming to the realization of the external influence. Once the madness truly took hold, there was nothing that could reverse it. [5]
The Fudo cult attacked and killed anyone they suspected might have succumbed to the influx of P'an Ku. [5]
References
Ad blocker interference detected!
Wikia is a free-to-use site that makes money from advertising. We have a modified experience for viewers using ad blockers

Wikia is not accessible if you've made further modifications. Remove the custom ad blocker rule(s) and the page will load as expected.