Faida was a loyalist of the Assassins and "Keeper of the Seventh Gate". She was the fifth daughter of the first Old Man of the Mountain Hassan al-Alamut.
Daughter of the Mountain
Edit
Faida was the fifth-born daughter of the Old Man of the Mountain. She had several sisters, Fatima, Shala, Chandra, Jamilah, and the adopted Adira, as well as several brothers including Haroun. [1]
Faida had no affinity with The Calling, so she did not became a member of the Order of the Assassins. She was married to a noble rich who revealed as a cruel and violent man. She escaped from him and returned to the Hidden Keep of the Assassins. [1]
Loyalist
Edit
Her father told her about Amal, [1] who would be her first kill, her brother, a traitor to the Old Man of the Mountain. She killed him in his bed, but she woke him up to savor his fear. [2]
Keeper of the Seventh Gate
Edit
The Hidden Keep had six gates, guarded by the Assassin Keepers. Faida was appointed as the Keeper of the Seventh Gate. She had to clean the world of those who betrayed the Order. [1]
Killing the Hammer
Edit
After the death of the Immortal Caliph Hanan Talibah, the Old Man's dead, and the ascension to the Caliphate by Adira, the assassins divided in three Assassins Factions. Faida was beside Shala. [3] In 1134 Faida hunted and murdered Chandra, the "Hammer". Shala told her that her sister Chandra was a member of the Jackal, the wicked necromancers. Faida eventually hunted Chandra down and killed her. [1]
Chasing Fatima
Edit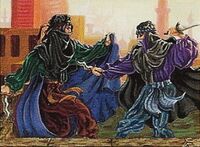 The eldest daughter of the Old Man, Fatima, was raised as an undead and joined the Jackal. [4] Fatima killed her father, [5] with the Wicked Moon. Faida knew of it [1] and eagerly sought how to destroy the traitor abomination. She scoured Medinaat al-Salaam searching the Fatima's soul [6] entrapped in a Soul Jar, but it was never found. [7] Faida eventually found Fatima, who she believed was an impostor, [8] and defeated her. Faida left the corpse behind, but she did not know that Fatima had not truly died. [1]
Traditionalist Leader
Edit
Shala was killed in 1167. Since them Faida led the Traditionalist faction. Faida had many enemies, but she spent her time plotting against the Caliphate and scouring to find Haroun, who had betrayed the Order becoming a Qolat Master. [9]
Wicked Moon
Edit
Faida somehow got the Wicked Moon, the legendary dagger of the Assassins. [10]
See also
Edit
External Links
Edit
Faida (LBS - Shadow of the Tyrant)
References
Ad blocker interference detected!
Wikia is a free-to-use site that makes money from advertising. We have a modified experience for viewers using ad blockers

Wikia is not accessible if you've made further modifications. Remove the custom ad blocker rule(s) and the page will load as expected.