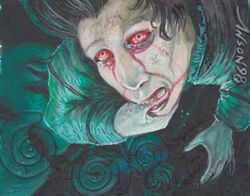 Facing Your Devils was a Mastery 5 Air Spell [1] which caused disharmony within the natural rhythms of the target's mind and body. The sudden eruption of chi, strong pitted against weak, could do enormous damage to a soul that was not properly balanced. [2]
Creation
Edit
Facing Your Devils was first recorded by Heichi Chokei, shortly after the Last Boar retired to the Brotherhood of Shinsei. When asked who it was for, Chokei said, "For whoever is brave enough to use it." This spell was most used by the Dragon Clan, who taught both shugenja and bushi that balance in all things was important. Sensei had this spell secretly cast on students prior to their attempting a task. The lesson begins after the student failed, or succeeded, at the task. [3]
External Links
Edit
References
↑ Book of Air, p. 185
↑ Way of the Wolf, p. 114
↑ Cite error: Invalid <ref> tag; no text was provided for refs named P.26T58
Ad blocker interference detected!
Wikia is a free-to-use site that makes money from advertising. We have a modified experience for viewers using ad blockers

Wikia is not accessible if you've made further modifications. Remove the custom ad blocker rule(s) and the page will load as expected.