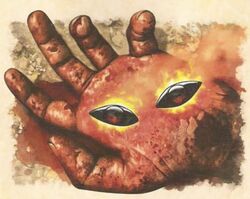 The Eyes of Ninube were created by the remnants of the Ninube family that survived the Battle of Oblivion's Gate. The eyes were jet black, as if made of obsidian, but their true material remained unknown. The Ninube bestowed the Eyes upon their servants to link them to the Goju Ninja tradition. [1]
External Links
Edit
References
↑ Prayers and Treasures, pp. 174-175
Ad blocker interference detected!
Wikia is a free-to-use site that makes money from advertising. We have a modified experience for viewers using ad blockers

Wikia is not accessible if you've made further modifications. Remove the custom ad blocker rule(s) and the page will load as expected.