Eye of the Needle was a small, verdant, elliptically-shaped [1] forest just outside of the walls of Kyuden Doji. [2]
Activation
Edit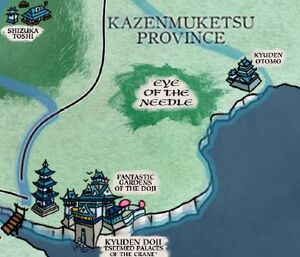 The Needle's Eye was dormant much of the time, and only awakened when the Moon was on full moon. The portal opened and connected to a randomly selected Spirit Realm, save for Tengoku and Jigoku. [3]
The Imperial Heir
Edit
During the reign of Hantei XXII, his young son fled the confines of the courts and spent the night in the woods. When the Seppun guardsmen found him the next morning, the perfectly safe boy said that a silver fox kept him safe though the night. None believed the small child, but were not going to contradict the Imperial Heir. [4]
Sacrosanct
Edit
One of the first acts of Hantei XXIII was to declare that the forest was sacrosanct, allowing no harvesting or hunting in its confides, a prohibition the Doji would follow long after the end of the Hantei line. The truth was that the young child's story was perfectly true. The forest contained a passage to Chikushudo, the spirit realm of animals, and was the home of many kitsune, tanuki and many other animal spirits. [4]
Other Travelers
Edit
In 1116 Daidoji Uji emerged from the Realm of Dream, returning to Rokugan from an Empire of nightmares. [3]
External Links
Edit
References
↑ Book of Air, p. 60
↑ Fortunes & Winds, p. 80
Ad blocker interference detected!
Wikia is a free-to-use site that makes money from advertising. We have a modified experience for viewers using ad blockers

Wikia is not accessible if you've made further modifications. Remove the custom ad blocker rule(s) and the page will load as expected.