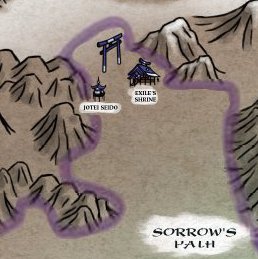 At Exile's Shrine those who had been sent to Exile's Road were allowed to pray on Rokugani soil one final time, then found their way into the Burning Sands alone. A guard of Imperial Legionnaires, mostly Unicorn horsebowmen, accompanied the exiled party halfway until this shrine. [1] This temple contained small shrines to all of the major Fortunes and ancestral lines. It was tended by volunteers from the Four Temples Order or their successor the Ten Thousand Temples, keeping a careful record of those who leave, which was collected by an Imperial auditor to bring the records to the Imperial archives. [2]
References
Ad blocker interference detected!
Wikia is a free-to-use site that makes money from advertising. We have a modified experience for viewers using ad blockers

Wikia is not accessible if you've made further modifications. Remove the custom ad blocker rule(s) and the page will load as expected.