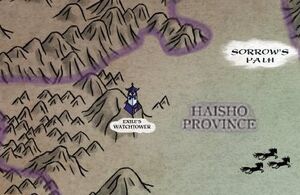 The Exile's Road Watchtower (U3) in the Haisho province [1] overlooked Exile's Road. It was high stone tower from which could see for miles around. [2]
A legion of Shinjo Horsebowmen patroled the road, accompanying those who walked into exile ensuring [2] that those who were sent along it did not return unnoticed. [3] They were also charged to patrol the area to make sure that no gaijin force approached Rokugan. The Shinjo Horsebowmen who guarded Exile's Road were attached to the Khol. [2]
The Thirty-Seventh Junghar Legion reinforced the Shinjo and they would take their place if the Horsebowmen were reassigned during conflicts. [2]
War of Dark Fire
Edit
In 1170 during the War of Dark Fire the tower suffered a suicidal attack of minions of Chosai, the Dark Oracle of Fire. One of the men exploded in the base tower, damaging it, but the rest were killed by the sentries before they could destroy the construction. [4]
Known Commanders
Edit
References
Ad blocker interference detected!
Wikia is a free-to-use site that makes money from advertising. We have a modified experience for viewers using ad blockers

Wikia is not accessible if you've made further modifications. Remove the custom ad blocker rule(s) and the page will load as expected.