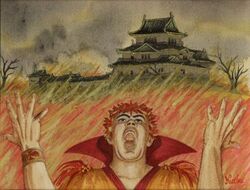 Essence of Fire was a Mastery 4 ward Imperial fire spell originally created by the Asahina to protect their duelists. [1] It targeted a particular duel, and the two participants in it. It prevented the use of magic to influence the outcome, either from nemuranai or spells. In addition, any poisons coating a blade or ingested by the combatants were rendered null for the length of the duel. [2] In modern times, a few shugenja have developed a more controversial variant which interfered with the targets' memories and suppressed their knowledge of bushi techniques. [1]
External Links
Edit
References
Ad blocker interference detected!
Wikia is a free-to-use site that makes money from advertising. We have a modified experience for viewers using ad blockers

Wikia is not accessible if you've made further modifications. Remove the custom ad blocker rule(s) and the page will load as expected.