Ep'kee was a nezumi general [1] of the Green-Green-White Tribe. He attained the status of enlightenment.
Fighting the Tsuno
Edit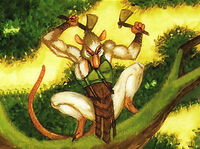 Ep'kee stood alongside his Chieftain when they attacked the Tsuno City of Dreams deep in the Shadowlands, during the Battle of One Tribe. [2]
Enlightenment
Edit
The blessing of enlightenment led Ep'kee to believe that the nezumi should defeat the humans and rule the world. [2]
Unicorn attacks
Edit
He was who first brought news of the Unicorn attacks against the Tattered Ear Tribe in the Shinomen Mori. [2]
Tomorrow
Edit
In 1169 the nezumi halted the Winter War against the Unicorn when a greater menace arised. [3] Ep'kee and his pack gathered toward the Shinomen Mori, where they would face Tomorrow. When they were crossing Ox territory rescued Morito Kiyoemon and his nanny, Morito Tomomi, from a kidnapping attempt made by bandits. Kiyoemon's father, Morito Kitaji, promised that he and his men would attack any Unicorn patrols that they encountered, as the Unicorn were destroying Nezumi warrens and endangering their pups. [4]
Fighting Tomorrow
Edit
The magic of the Tomorrow's Hourglass was used by Mak'irtch to enter Yume-do and aid the Transcendents fight against Tomorrow. Dragons, or what appeared to be dragons, were approaching from a distance, destroying everything as they went. Entities resembling Lord Sun and Lady Moon walked at their side. Wherever they stepped, the land vanished in a haze. [5]
Ep'kee leapt the shadowy Dragon of Earth and sank his small axe into the hard carapace. Z'orr'tek, thrusted his spear between two great scales, and into its throat. The dragon threw Ep'kee clear into the side of the damaged city, killing him instantly. [5]
External Links
Edit
References
Ad blocker interference detected!
Wikia is a free-to-use site that makes money from advertising. We have a modified experience for viewers using ad blockers

Wikia is not accessible if you've made further modifications. Remove the custom ad blocker rule(s) and the page will load as expected.