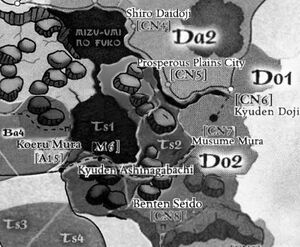 The Enzan province (Ts2) was the rocky easternmost Tsuruchi province. It was bordered in the west by the Ashinagabachi province (Ts1) and the Red Lake, being enveloped in the rest of its borders by the lands of the Crane. The province was crosssed from north to south by the Seikitsu Mountains. [1] The Tall Grass Plain was located in its south border [2] and it smost notable holding was Sakana Mura. [3]
References
↑ Secrets of the Mantis, p. 96
↑ Game Master's Guide 2nd Edition, p. 2
↑ The Atlas of Rokugan, p. 116
Ad blocker interference detected!
Wikia is a free-to-use site that makes money from advertising. We have a modified experience for viewers using ad blockers

Wikia is not accessible if you've made further modifications. Remove the custom ad blocker rule(s) and the page will load as expected.