Enough
Written By:
Nancy Sauer
Edited By:
unknown
Released:
July 2007
Link:
[1]
Story Year:
1169
Enough is a fiction written by Nancy Sauer. It was first released in the Imperial Herald, Volume 2, Number 22.
Annotated Story
Edit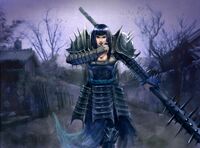 Somewhere on the Kaiu Wall, Hida Kaoru is trying to keep up with the veterans of her unit. Running up some stairs they reach the top and pause there for further instruction. The sun is setting, and around Kaoru she can see the wall preparing itself for the coming battle. It is Kaoru's first time on the wall as a full samurai. Fear starts to grip her as she wonders if her training could ever be enough. Her gunso barks at her to stop thinking. She is on the wall because she has been deemed worthy, and he tells her to try and survive til sunrise. Kaoru says she will not fail. Suddenly a whistling noise indicates there is an incoming attack. Goblins are launching themselves at the Crab on the wall. Kaoru fights on instinct, and before she realises it, the melee is over. Two Crab are down amongst many goblins. Her commander shouts orders again and they begin running towards something large and green-grey trying to pull itself over the wall. Kaoru smiles grimly.
Characters
Edit
Not Present, But Mentioned
Edit
None
Ad blocker interference detected!
Wikia is a free-to-use site that makes money from advertising. We have a modified experience for viewers using ad blockers

Wikia is not accessible if you've made further modifications. Remove the custom ad blocker rule(s) and the page will load as expected.