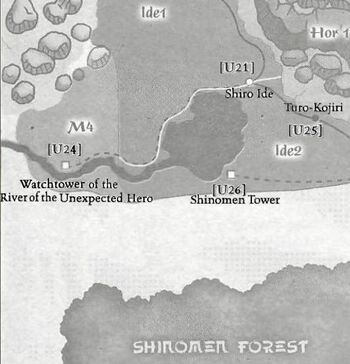 The Enkaku province (M4) was a Unicorn province of the Moto family, and contained the Watchtower of the River of the Unexpected Hero. [1]
Moto Control
Edit
The small Moto province beyond the Ide lands had been annexed from rarely used Ide lands when the Moto family assumed control, to provide the Ide more security. The Khan Moto Gaheris was unwilling to leave any border to be defended by the Ide. An entire legion was moved there as the province was vulnerable to possible attack from the Shadowlands. [2]
It was bordered by Seikitsu Mountains in the north, by the Garanto (Ide1) and Eijitsu provinces (Ide2) to the East, overlooking the Shinomen Mori to the South, being enveloped by the limits of Rokugan in the West. [1]
References