Energy Transference was a Mastery 4 water spell [1] which allowed the shugenja to draw on the inner nature of chi and its ability to transform positive energy into its opposite, forcing the target to invert two of his attributes.
External Links
Edit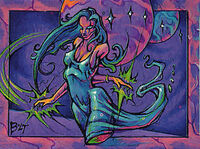 References
↑ Prayers and Treasures, p. 93
Ad blocker interference detected!
Wikia is a free-to-use site that makes money from advertising. We have a modified experience for viewers using ad blockers

Wikia is not accessible if you've made further modifications. Remove the custom ad blocker rule(s) and the page will load as expected.