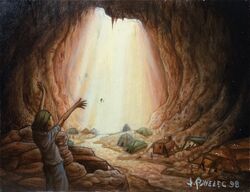 The Eleventh Tribe was one of the fourteen Hanif tribes, the only one who went with Shinsei.
Day of Wrath
Edit
These people lived before the Day of Wrath in the place which would be known as the Burning Sands. After Shilah, the Sun, enacted her anger, and the lush place became a desert, the people began to travel, seeking farmable lands. They arrived to a place where they would be known as the Hanif. [1]
They lived near the Yodotai, a peaceful nation who became an expansionistic Empire. The Hanif left the lands under the yoke of these militaristic, and journeyed back to their original homelands. [1]
The trek into the desert took its toll, and the appearation of a small prophet, Mekhem, saved them to die in the sands. [2] The little prophet guided them back to their homelands. When they returned another empire, the Senpet, attacked to enslave them. The nation broke in fourteen tribes, and the eleventh went with Mekhem. [1]
Slavery and Freedom
Edit
For centuries the rest of the Hanif tribes were enslaved by the Senpet. In 1132 a descendant of Shinsei, Duqaq, released the Hanif, who could began to seek the lost tribe. [1]
External Links
Edit
References
Ad blocker interference detected!
Wikia is a free-to-use site that makes money from advertising. We have a modified experience for viewers using ad blockers

Wikia is not accessible if you've made further modifications. Remove the custom ad blocker rule(s) and the page will load as expected.