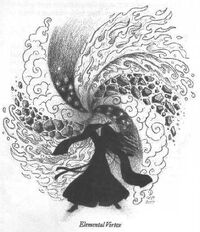 Elemental Vortex were twisted creation of the Dark Oracles. They were malevolent, sentient portals into the deepest recess of Jigoku. [1]
Abilities
Edit
A simple vortex existed in two places at once: a portal somewhere in the Shadowlands, and a portal in somewhere else, usually in Rokugan. [2] They were invisible to those whose eyes were closed to Elements, twisted the kami around them, invulnerable to normal weapons, but with limited lifespan, as they were unstable and usually dispersed after about a week. [1]
Clan War
Edit
In 1127 a Vortex supported the attack of Yogo Junzo's army to Shiro Iuchi. It was destroyed by the magic of Iuchi Karasu. [3]
See also
Edit
External Links
Edit
References