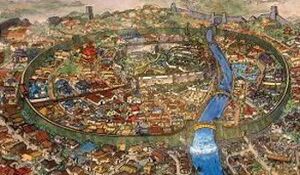 Ekohikei, the "Favored Ones", [1] were the districts of the Otosan Uchi inside the Enchanted Wall, which surrounded the Forbidden City. [2]
Districts
Edit
After the Battle of Four Winds Hantei divided the Imperial City in five districts, and gave command of each of them to the Great Clan which had assisted in its defense. [3] The district names were permanent, regardless of who served as Governor. [4]
Scorpion Coup
Edit
The four districts surrounding the Forbidden City suffered greatly during the final hours of the Scorpion Coup, as fully half the structures between the Miwaku Kabe and the walls around the Imperial Palace grounds were burned, or brought down. [5]
References
Ad blocker interference detected!
Wikia is a free-to-use site that makes money from advertising. We have a modified experience for viewers using ad blockers

Wikia is not accessible if you've made further modifications. Remove the custom ad blocker rule(s) and the page will load as expected.