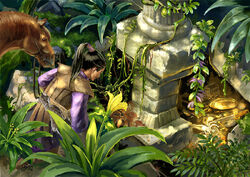 The Edict of Exploration was issued in 1198 by the Imperial Governor of the Colonies Otomo Suikihime, allowing any samurai to explore and claim any treasure they found for their clan, [1] permitting them entry into those regions previously earmarked for the Spider Clan alone. [2]
References
Ad blocker interference detected!
Wikia is a free-to-use site that makes money from advertising. We have a modified experience for viewers using ad blockers

Wikia is not accessible if you've made further modifications. Remove the custom ad blocker rule(s) and the page will load as expected.