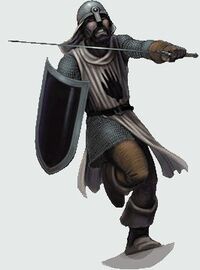 The Ebonite Templar were the defenders of the Temple of the Prophet. They used heavy armor. [1] The most numerous rank and the basic soldiers of the Order of the Ebon Hand, they had passed the Test of the Ebon Stone. [2]
Keepers of Law
Edit
They patrolled the sewers of Medinaat al-Salaam to kill the Ghuls, journeyed the desert to rescue those who became lost, and were the enforcers of the city law. They detained those who break the law and passed them to the city guards. [2]
Seniority
Edit
The term 'senior templar' was used to refer to older, veteran, and respected members of the templar rank who have not been granted Crusader status. They were charged with overseeing the education of applicants. Those who retained their might served as squadron and patrol commanders. [2]
Known Techniques
Edit
See also
Edit
References