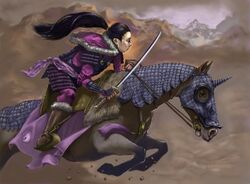 East Wind was an Otokodate which lived in the East Hub Village.
Tortoise
Edit
After the Fall of Otosan Uchi in 1159 the Tortoise maintained a nominal presence within the village. The East Wind were hired to protect the Tortoise's assets. [1] The East Wind used their pay to purchase simple holdings of their own within the city. [2]
East Wind and the Unicorn
Edit
In 1168 the East Wind led by Hokatsu aided Shinjo Shono in destroying the Sons of Shadow, Ninja bandits, who plagued the village. [1] Since then the East Wind aided the Shinjo family to administer the district, [3] and the forgotten troves of Tortoise gold discovered in the North Hub Village were used to fund their ronin allies. [4]
Unicorn Unit
Edit
The Unicorn created a cavalry unit assembled with former members of the East Wind that swore fealty to the Great Clan. [5]
Known Leaders
Edit
Known Technique
Edit
External Links
Edit
References
Ad blocker interference detected!
Wikia is a free-to-use site that makes money from advertising. We have a modified experience for viewers using ad blockers

Wikia is not accessible if you've made further modifications. Remove the custom ad blocker rule(s) and the page will load as expected.