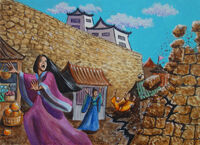 Earthquakes, also commonly called Tremors, were the result of sudden releases of energy in the earth which created seismic waves.
Otosan Uchi
Edit
In 1140 an terrible earthquake shooked Otosan Uchi. [1] The ground where the Imperial City was built upon was not stable, and earthquakes were not rare. [2]
See Also
Edit
External Links
Edit
References
Ad blocker interference detected!
Wikia is a free-to-use site that makes money from advertising. We have a modified experience for viewers using ad blockers

Wikia is not accessible if you've made further modifications. Remove the custom ad blocker rule(s) and the page will load as expected.