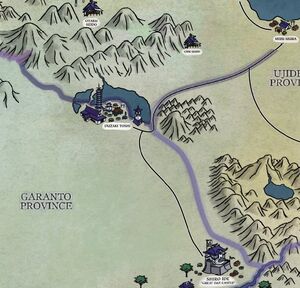 Duzaki Toshi (U20) in the Garanto province [1] was a small city on the far side of the Unicorn lands and housed the private estates of the Utaku and Shinjo Daimyo. The city was often used for sigining treaties or some solitary training. The guards who served the daimyo called these lands their home. [2]
The city housed the Dojo of the Left, the primary dojo of the Junghar. [3]
Fall of the Shinjo
Edit
Since the Shinjo ceased to be the leaders of the Clan, the city had lost much of its prestige, and many abandoned the city. It remained an important part of the Unicorn Clan's trade network. The Sixth Junghar Legion and three Khol legions were posted there. [4] The walls of the city were also strengthened, to serve as a reserve area and staging ground for all the Unicorn armies. [5]
References
Ad blocker interference detected!
Wikia is a free-to-use site that makes money from advertising. We have a modified experience for viewers using ad blockers

Wikia is not accessible if you've made further modifications. Remove the custom ad blocker rule(s) and the page will load as expected.