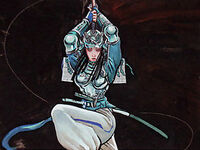 A Duelist was a talented swordsman, an expert in the
art of the single-stnke duel. [1] It was also the term for one of two participants in a duel, which was a highly formalized combat between two members of the Samurai caste.
Types of Duelists
Edit
Famed sword duelists in Rokugan typically came from one of two schools, the Kakita Dueling Academy, which focused primarily on iaijutsu, the art of drawing and striking with the sword in one fluid motion, and the Mirumoto family school of dueling, the Iron Mountain Dojo, which focused on niten, the art of using both a katana and wakizashi in combat. Other offshoots of such schools were in existance, but typically they traced their origins from one of these two dojos.
Shugenja had been known to engage in magical duels, eschewing the sword.
The duelist use to wore tassels in their jingasa, representing their defeated foes. [2]
Famous Duelists
Edit
References
↑ Way of the Daimyo, p. 37