Drums of Water could be found anywhere in the Empire, although the majority were within the Unicorn. Within the Iuchi Shugenja school, young initiates assisted in the creation of them until they mastered how to fashion the drums themselves. [2] [3]
Appearance
Edit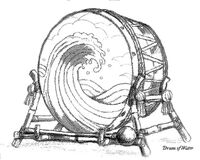 A Drum of Water was a small hand drum, extremely light and easy to use. The body was painted blue and decorated with colored spirals. The skins were stretched across both ends painted with black designs. [2]
When the Drum was played, allied forces could strike faster in combat. [2]
External Links
Edit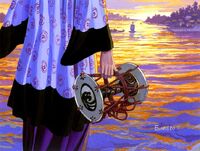 References
Ad blocker interference detected!
Wikia is a free-to-use site that makes money from advertising. We have a modified experience for viewers using ad blockers

Wikia is not accessible if you've made further modifications. Remove the custom ad blocker rule(s) and the page will load as expected.