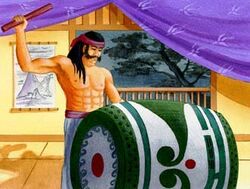 Drums consisted of at least one membrane that was stretched over a shell and struck to produce sound. There were two basic types of Rokugani drums, the hourglass-shaped tsuzumi, played with the hand, and the larger, barrel-shaped taiko, played with sticks. Another important drum was the hirazuri-daiko, used in kabuki and noh theatre. [1]
Known Drummers
Edit
External Links
Edit
References
↑ Game Master's Guide; 2nd Ed, pp. 70-71
Ad blocker interference detected!
Wikia is a free-to-use site that makes money from advertising. We have a modified experience for viewers using ad blockers

Wikia is not accessible if you've made further modifications. Remove the custom ad blocker rule(s) and the page will load as expected.