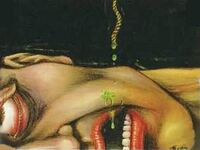 Dripping Poison was a greenish poison which was the preferred of assassins everywhere. It was so named because of its viscosity, which allowed it to be administered by dripping the poison down a thread over the head of the sleeping target, onto the lips. It induced sharp stomach pain and overwhelming nausea, which many mistaked for food poisoning or illness. The victim began to feel weak, and breathing became difficult and choppy. [1] [2]
External Links
Edit
References
Sources Conflict
The sources relating to this article are in conflict with each other.
4th Edition claims the poison has a distinctive flavor and Honor's Veil odorless instead. Oni no Pikachu 10:40, February 4, 2012 (UTC)
Ad blocker interference detected!
Wikia is a free-to-use site that makes money from advertising. We have a modified experience for viewers using ad blockers

Wikia is not accessible if you've made further modifications. Remove the custom ad blocker rule(s) and the page will load as expected.